So you've landed yourself a Skoda Kodiaq, hey? We may be a little biased, but excellent choice. The Kodiaq is one of our most popular models, and for good reason. This massive seven-seater SUV is as spacious as it is innovative, and has all of the technology and comforts you'll ever need from a car. Whether you're doing some soft offroading on the weekend or simply driving your daily commute, the Kodiaq is a stellar choice.
Now that you've got the wheels, it's time to accessorise. If you're looking to level up your Skoda Kodiaq, check out the best Skoda Kodiaq accessories below. Whether you're after exterior accessories or interior accessories, the team at Perth City Skoda have got you covered.
Exterior Accessories
Roof Racks and Tow Bars
If you're a little bit more adventurous and love to hit the great outdoors on the weekend, roof racks are your go-to. And Skoda has a bunch to choose from.
Transverse Roof Rack
These are your standard roof racks. Good as a starting base, or for simple things you want to chuck up on the roof.
Lockable Bicycle Carrier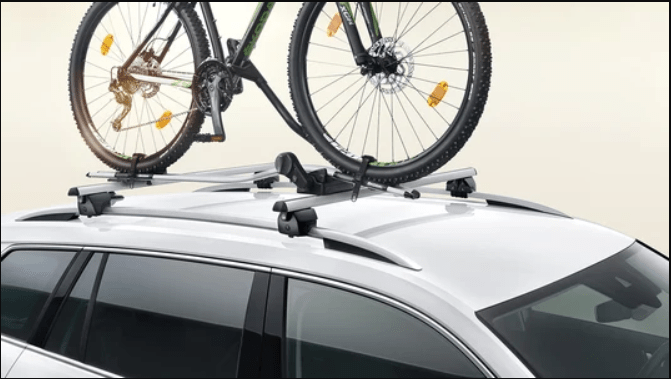 Sometimes, it's nice to hit the open road and ride your bike somewhere new. Whether you cycle on the road or prefer to head up to the mountains, the Lockable Bicycle Carrier will get your bike there safely.
If you're a little iffy about carrying your bikes overhead, look at getting a tow bar bicycle carrier. A super easy and efficient way to cart your bikes around.
Lockable Ski and Snowboard Box
We know what you're thinking. "But we're in Australia. What do we need a snowboard box for?"
We hear you, but here's the thing – this box has a 380-litre capacity, and is definitely not limited to snow equipment. You can chuck all sorts up there that you don't have room for in the cabin or boot, including extra bags, oars, blow up kayaks, and more.
New Wheels
Skoda offers a couple of different wheel options for those who are looking for a sportier Kodiaq design. Choose from the Crater light-allow wheel in matte black or the Triglav light-allow wheel in brushed anthracite.
Interior Accessories
Boot organisation
With a spectacular 630 litres of cargo space with the rear seats down, you've got a large surface area to play around with. That's where Skoda's netting system comes in. It's a fantastic way to keep your boot organised, and stop things sliding around in the back while you're breezing around those corners.
Similarly, you can look at getting your hands on an Aluminium Divider or Universal Fixing Element to keep everything in place. Or, if you prefer, check out the Boot Bag from Skoda's genuine accessories.
Headrest adaptor and Smart Holder
Multimedia Holder
Because of its awesome size and seven-seat capabilities, the Kodiaq is a classic family car. If you're hitting the road for a trip away with the family, getting a headrest adaptor and Smart Holder for a tablet will save your sanity. The kids can watch their movies and shows, and you can get a bit of peace and quiet. It's a win-win!
Don't have kids? Your rear passengers will probably enjoy that multimedia holder, too.
Hooks and Hangers
Once you've got the headrest adapter, the world is your oyster. If you find yourself on the move a lot but you're lacking in storing solutions, consider installing a hanger for any additional clothing you might need for work, or a hook to hang your bag from as you drive from A to B.
Dog Safety Belt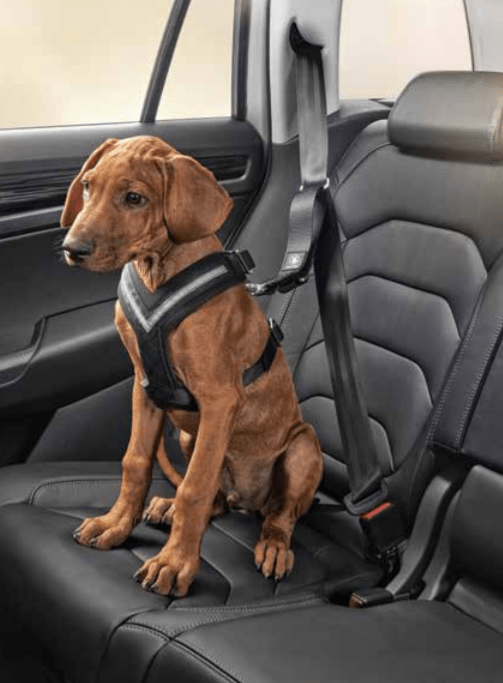 Got a furry canine friend? Keep them safe in their seat with Skoda's dog safety belt. It attaches to a seat belt and easily clips onto your pup's harness, meaning your best friend won't be sliding around while you drive.
Protect your boot
Life can be messy. Protect your Kodiaq's boot with a fold-out boot mat or plastic boot dish – essentially a boot liner to protect your car from all the dirt that inevitably comes from living your life to the fullest. Trust us – it's a lot easier wiping down a boot mat of your dog's muddy pawprints than trying to scrub your actual boot.
Protect your cabin
If you're a bit adventurous or just have a family jumping in and out of the car, having car interior mats are an absolute must. You can get your standard interior mats as well as all-weather mats that cover the interior tunnel.
Skoda's Simply Clever storage solutions
Here at Skoda, we get pretty crafty with our storage solutions. That's where Simply Clever comes in. Install a bin for your door panel to keep rubbish off the floor and in one, tidy place, or get an umbrella that you can store in your car door. You'll never be caught in the rain again!
What's next?
If you're after the best Skoda Kodiaq accessories or if your interest has been piqued for the Skoda Kodiaq itself, come down to Perth City Skoda and take one of our Kodiaq models for a test drive today! We have a fantastic range of stock and some great value vehicles you can take for a spin.