The Skoda Octavia is an excellent family car that's packed with the latest tech and safety features. However, in amongst all the technology that we've come to expect we still have basic safety features such as mirrors that we can fall back on. The mirrors on your car are essential to give you all round visibility on the road; some drivers are unsure about how to set them up correctly. Many drivers will have noticed others adjusting mirrors at the lights or even pulling them around to adjust their makeup! Then the mirror is put back into the wrong position and visibility is compromised. Let's take a look at the best way to set up the mirrors in your car.
Making the Best Use of Your Car Mirrors
The most fundamental mistake that many drivers make with their car mirrors is to not use them at all. Many drivers will have attempted to get the attention of another road user only to discover that they don't notice you at all. This may be a driver hogging the right hand lane at a slower pace, and they don't seem to notice other drivers signalling them to pull in. A closer look into their cabin will quickly confirm that their mirrors don't reflect their eyes and if you can't see their eyes, they cannot see your car.
Setting Up Car Mirrors Properly
It's important to set up all of the car mirrors correctly to get the all round visibility that you need on our busy roads. The left and right side mirrors and the rear view mirror all need to be set to the correct position, but this can only happen after you have your seat adjusted to the correct driving position. Some drivers try to make these adjustments after they have set off driving and this is inadvisable. When you're trying to adjust your driving seat and mirrors whilst in motion, it's a distraction that could easily lead to a road traffic accident. Always make your adjustments before you start the engine and set off driving and you will have a far safer journey.
Setting Up the Three Driving Mirrors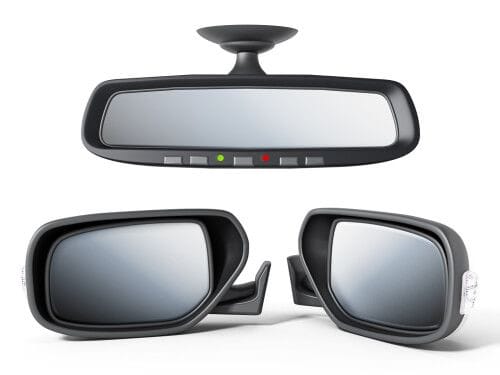 There are three driving mirrors, and you need to set up each one properly to get the best all round visibility.
The rear view mirror is the easiest mirror to adjust because it's right next to you in the cabin. The rear view mirror should frame the rear window, and you need to angle it so that you have the minimum amount of your car interior reflected there.
The right side mirror should be set so that the horizon behind you is at the halfway point in the centre of the mirror. Then push the mirror out slightly to the right so that you see as little of the right side of your car as possible. This will give you the maximum amount of vision on cars coming up alongside yours.
The left side mirror should be set up much like the right side, but if you want to use that mirror to reverse park, you will need to adjust it down a touch to see the gutter. This will help you to avoid scuffing your wheel trims and tyres on the kerb.
If you're interested in the latest Skoda Octavia wagon models, get in touch with Skoda Perth to arrange your no obligation test drive today.