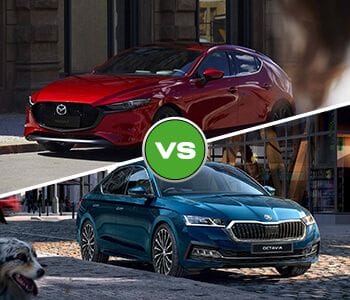 The SUV has enjoyed significant growth in popularity over the past decade, but Australians still love a good sedan. Practical, spacious, powerful and comfortable, a good sedan ticks all the right boxes for many families in this country, and so there is still a huge market for manufacturers to compete in. They're also at the forefront of innovation, as brand new tech tends to trickle down the fiscal food chain from high end luxury cars to the more affordable models in the sedan market.
There are plenty of reasons to buy a sedan, and there are plenty to choose from, but today we're going to take a look at how the Skoda Octavia vs Mazda 3 sedan stack up against each other. They're both fantastic cars so it will be interesting to see how they compare!
Mazda 3 vs Skoda Octavia at a glance
| | | |
| --- | --- | --- |
| | Mazda 3 | Skoda Octavia |
| Engine | 2.0 litre in-line 4 cylinder 16-valve DOHC S-VT petrol engine with i-stop | 1.4L petrol engine, 4 cylinder 16 valve |
| Power | 114kW | 110kW |
| Torque | 200Nm | 250Nm |
| Acceleration 0-100km/h | 10.8 seconds | 6.7 seconds |
| Cargo Space | 295L | 600L |
| Fuel Economy | 6.2L/100km | 6.4L/100km |
*For baseline models. 
Looks Octavia Vs Mazda 3
They're both fabulous looking cars. The Mazda is sleek, especially with that long, pointed front end. It has nice flowing lines and very stylish swept back headlights. Meanwhile the Skoda has a more aggressive, muscular look about it. If the Mazda were a cheetah, the Skoda would be more like a Bengal tiger.
Before moving on, we must address the elephant in the room—the Mazda's front grill. It's certainly very striking, but for some it may be a bit much. This seems to be a common feature among Japanese cars, but it almost looks like the mouth of a vacuum cleaner, ready to inhale whatever gets in its way. The Skoda's front grill, on the other hand, fits the car's styling quite a lot better. Meanwhile, the 18″ alloy wheels perfectly accentuate its overall aesthetic.
All in all, the Skoda seems to have the edge when it comes to the exterior styling. From no angle is there anything wrong with the Mazda, but likewise, there's nothing particularly exciting about it either. The Skoda, on the other hand, is a lot more interesting to the eye.
Interior Octavia Vs Mazda 3
The Skoda and the Mazda take rather different approaches when it comes to the interior. From the driver's perspective, the Skoda has all the controls and features one would expect in a modern car—cruise and entertainment controls on the steering wheel, digital dashboard with an array of dials and readouts, optional head-up display, wireless charging port and a whopping 10″ touch screen centre display.
The Mazda, on the other hand, has gone for more of a minimalistic interior environment. The driver has a simple 3-dial driver display and a small touch screen display perched atop of what seems like miles of empty dashboard. It has a simplistic elegance about it, as though some serious thought has gone into the interior design to make it as calm and serene as possible. The downside, however, is that it may take some time to figure out how to access a lot of the car's features, as style seems to have taken precedence over functionality.
Both cars come with with usual interior features such as comfy leather seats, climate control, electric windows etc. The Mazda comes with electric heated seats, whereas the Skoda's front seats come with memory function, cushion depth adjustment, seat ventilation and massage function.
When it comes to size, the Skoda wins this one easily. It's a bigger car overall, which means more leg room and more cargo space.
Compare Mazda 3 and Skoda Octavia Engine
On paper, the Mazda is a more powerful car…but is it that simple?
The Skoda's 1.4L turbo engine puts out 110kW @ 6000rpm (nearly 150 hp).
Meanwhile the Mazda offers several power units depending on the model, but in a comparative test in terms of price, you're going to get a 2.5L petrol engine that puts out 139kW @ 6000rpm (just over 185 hp). This may seem like a big difference, but the two cars have very similar torque figures, and the Mazda's engine is much larger, which means more weight, and greater fuel consumption.
The upshot of all this is fairly similar performance stats. It's hard to pin down the Mazda's 0 – 100 km h figures because there are so many models, but they seem to generally hover around 8 seconds, much like the Skoda. But the Czech car's engine capacity and design means you generally save about 1 liters in fuel per 100 kilometres.
Features of Skoda Octavia and Mazda 3
Both cars are full of great features. They both come with Apple Carplay and Android Auto, keyless entry and push button start, adjustable steering column, multimedia screen, 8 speaker stereo systems and of course—plenty of cup holders.
They also both come with all the safety features you would expect, such as the Mazda's Smart City Brake Support, and the Skoda's Electronic Brake Force Distribution. They also boast plenty of driver assistance features such as collision warning and mitigation, and lane assist.
As far as features go, there isn't much that separates the two cars, but the Skoda has a couple of nice additional features such as tablet holders for the rear seats, luggage hooks and umbrella slots in the doors.
Verdict
They both make for an excellent family car. They're both full of features, and they're both great to sit in and drive. However, Skoda just gives you a bit more 'car' in the Octavia, as well as being bigger and better looking. So, in a Mazda 3 vs Skoda Octavia shootout, we reckon the Octavia walks away with the chocolates.
To have a look for yourself, get in touch with us at Perth City Skoda and book a test drive. We're pretty sure you'll come to the same conclusion!