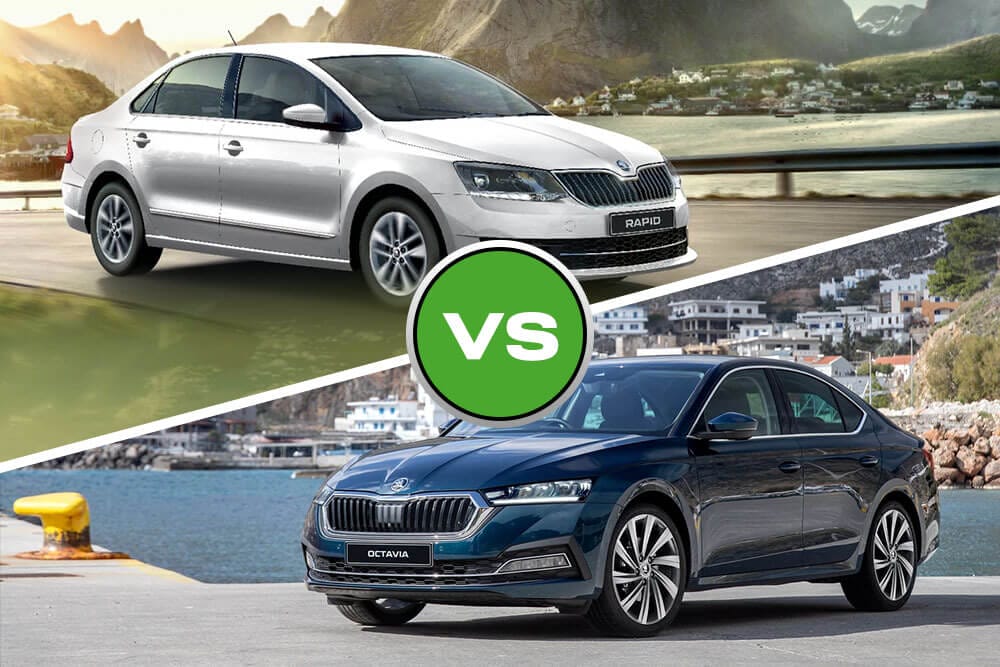 Do you remember the first time you drew a car as a child? Chances are it was a sedan. A poorly drawn sedan, no doubt, but a sedan nonetheless.
It's just the body shape most associated with cars – and for good reason.
And chances are you've stumbled onto this page because you're on the hunt for a new car, you've settled on a sedan, and you're now faced with the difficult decision between a Skoda Rapid vs Skoda Octavia.
Both are fantastic daily drivers for a number of reasons, so it can be hard to pick between the two classic Skoda models. But don't worry – we're here to break it down for you so you know which one to go for when buying your new car.
You can't buy the Skoda Rapid NEW anymore
The Rapid does stand the test of time, but it is no longer being newly produced by Skoda. If you're passionate about getting the Rapid, you'd have to hunt down a secondhand car – which is absolutely fine, as used cars are a fantastic option for a number of reasons, including price.
It's just something to keep in mind before going forward.
Opting for a used car?
Check out our ultimate used car buying guide.
Let's talk design
Skoda is well known for its high standards in design, and these two classic models in the Skoda range live up to that.
Let's start with the Skoda Rapid – a pretty compact sedan that is almost like a longer Fabia. Not quite hatchback but not completely a wagon, the Rapid became the Rapid "spaceback" wagon. In terms of exterior design, the Rapid is pretty basic, which is not to say it's bad – it's a great option for those who just want something to get them from A to B.
On the other side of the spectrum you have the new Skoda Octavia. As distinct and timeless as the Octavia exterior is, we've really stepped it up with the updated body style. Bigger and better than ever, with sleeker lines and a streamlined appearance, the Octavia is not your average family car.
The same goes for the interior. The Rapid has a pretty standard setup – functional, comfortable, spacious, and with a nice amount of boot space for the body type. The Octavia is just that next
level up: modern interior, a large infotainment system, revised trims, and all of the Simply Clever storage solutions that Skoda is so well-known for.
What about features?
You've probably gathered by now, but the Rapid is relatively basic when it comes to features. Which, again, is not to say it's bad by any means. It's got everything you need when it comes to the essentials, and if you're not fussed over all the latest and greatest special features, then it's the perfect cost-effective option.
The Rapid doesn't have a touchscreen – just a standard infotainment system, with everything visible next to the speedometer and steering wheel-mounted controls. You do have a USB socket for charging and pairing your phone, plus Bluetooth pairing as well.
Because Skoda is focusing on making the greatest Octavia yet, you'll have all the latest and best technologies at your fingertips. When we do tech, we do it well. The all-new Skoda Octavia comes equipped with a whopping 10.0-inch touchscreen infotainment system, compatible with wireless Apple CarPlay and Android Auto. You've also got those added comfort features, like dual-zone climate control, keyless entry and push start, ambient interior lighting, and plenty of power outlets to charge your devices.
Engine and all that technical stuff
Alright, let's get technical. If you're yawning at the very thought of talking about engine specs, don't worry – we'll try to be as brief as possible.
To break it down nice and quick…
The latest new Rapid model (we're talking 2020) sees a 1.4 litre PULP 7-speed automatic transmission. You're looking at 6 litres per 100km in terms of fuel consumption.
Meanwhile, the Skoda Octavia (2022 edition) sports a 1.4-litre TSI petrol engine, consuming 5.7 litres per 100km.
Both have a direct injection system.
That's it! No more numbers talk.
Phew!
Safety
We won't beat around the bush – safety is what we all prioritise when hunting for a new car. So what's the deal with safety when it comes to the Rapid and Octavia?
The Rapid has a five-star ANCAP safety rating, with standard ABS breaks, electronic stability control, front, side and curtain airbags, and hill hold.
Like the Rapid, the Skoda Octavia has a five-star ANCAP safety rating, with eight airbags, AEB with pedestrian and cyclist detection, and parking sensors. Add on some additional safety extras with optional packs (like the Luxury pack), such as blind-spot detection, rear cross-traffic alert, lane assist, and others that will make you feel safer and more confident on the road.
If you're planning on buying a car for the family, the Octavia would be the better option in this case, with more safety features available and options to further upgrade if you'd like to.
The bits and pieces
Now for the little bits and pieces that may not necessarily be the main event, but something to be mindful of when buying your new car.
Boot space – how much junk do you need in your trunk? The Octavia sees significantly more boot space, with 600 litres compared to the Rapid's 460 litres.
Both car options have electro-mechanic power steering – pretty standard with Skoda vehicles.
Both models also have MacPherson Suspension; the Rapid has this with lower triangular links and a torsion stabiliser.
Steering adjustment is pretty standard in both, but you'll find the Rapid has Telescopic Tilt options.
And both have keyless entry for ease.
Skoda Rapid vs Skoda Octavia – Quick Comparison
| | | |
| --- | --- | --- |
| Key Highlights | Skoda Rapid | Skoda Octavia |
| Engine | 1.0L TSI three-cylinder petrol engine | 1.4L turbocharged four-cylinder petrol engine |
| Power | 80kW | 110kW |
| Torque | 175Nm | 250Nm |
| Acceleration 0-100km/h | 10.09 seconds | 6.7-9.1. seconds |
| Cargo Space | 550L | 600L |
| Fuel Economy | 6L/100km | 5.7L/100km |
For baseline models – Skoda Rapid Spaceback 2020 and Skoda Octavia 110TSI
So what's the final verdict?
While both the Skoda Rapid and the Skoda Octavia are great cars, we've got to go with the Octavia as the winner in the duel between the two. The Octavia is the most updated, and wins in all areas of technology, safety, and comfort. Plus, it looks great. The Rapid is a nice basic that is great if you're a little wary on price and don't mind too much about not having all the latest features – but ultimately, the Skoda Octavia is the best model for singles, couples, and families alike.
If you want to see for yourself, come down to Perth City Skoda to test drive the Skoda Octavia today!