So you're on the hunt for a seven seater SUV but you're not sure which one to choose. We get it – it's a tricky choice, and with so many excellent large SUVs currently on the market, figuring out which one is the best fit for your lifestyle is a task and a half.
Seven seat SUVs are an excellent choice for growing families or for adventurers who need that extra cargo space and the opportunity to add a few more passengers if need be (did someone say road trip?). So what's the deal? Which are the best large SUVs currently on the market in Australia? We're about to do all the research so you don't have to.
1. Audi Q7
Coined a luxury SUV by Audi, the Audi Q7 is a spacious SUV with seven seats that comes with a whole host of customisation options and extra add-ons.
Audi isn't wrong – this is a pretty chic-looking model, and the interior is pretty lush. That being said, though, the interior is also very minimalistic, and with such a beautiful exterior, it's a little underwhelming once you hop up into the cabin.
But it's spacious, that's for sure. The Audi Q7 is probably one of the roomier seven seat SUVs currently on the market, and your passengers will be comfortable in this model. Leather upholstery comes in the base model, with the option to add contour seats, or massage front seats if you're feeling particularly fancy.
Extras aside, the Audi Q7 is functional, and will get you 2050 litres of boot space with the second and rear seats down – which is pretty damn good. If you do have a lot of cargo to carry or some child seats to fit into the back, the Q7 will definitely be able to fit most things. If you need more space? Braked towing capacity is at 3500kg.
As a luxury SUV, though, the Audi Q7 comes with a price point to match. Its dimensions also make it a little tricky to manoeuvre at times, and not ideal for parking lots.
Listen, we know we're a little bit biased – but the Skoda Kodiaq is a pretty damn good seven seat SUV. Because its size is more reminiscent of a mid-size SUV but it has seven seats, it strikes a perfect balance between large-and-in-charge and easily manoeuvrable, making it the ideal choice for those who want to be able to fit seven people into their SUV but don't want the hassle of driving around in a massive vehicle on the daily.
If you'll let us brag for one second, we'll let you know that the Skoda Kodiaq won Carsales Best Family SUV Award in 2020. We think that's pretty cool. The Kodiaq has some excellent safety features for your family, including Blind Spot Detection, Front Assist with City Emergency Brake, Adaptive Crusie Control, and Fatigue Detection. You've also got all the latest and greatest technology, including Apple CarPlay and wireless Android Auto.
Even though it's a slightly smaller seven seater, you still have a ton of boot space – 270 litres, to be exact, with 630 litres with the rear seats down, or 2005 litres with both second and third rows folded down.
Skoda has made your convenience a priority, too, with helpful features like three-zone air conditioning, an automatic tailgate, and some Simply Clever storage solutions, including door edge protection for when your kids inevitably accidentally whack their car doors on the garage wall.
Check Out Skoda SUV Range
3. Kia Sorento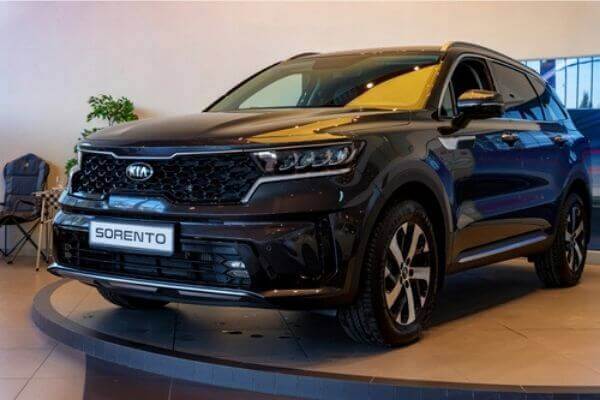 The Kia Sorento is another large SUV that has been coined a luxury family car. It definitely looks great, with a sleek angular exterior and a bold interior. This one is a little less minimalist than the Audi Q7, with some interesting colour and texture in the cabin to spice things up a little bit.
You do need to upgrade to a higher trim level to enjoy some of the more luxurious features, including leather seats, a larger touchscreen on the instrument panel, sat-nav, dual-zone climate control, and a myriad of others. It's also a little bit cramped in the back seats.
But the Kia Sorento is a pretty competent off-roader and has a great braking system, which is good for adventurous families.
4. Hyundai Santa Fe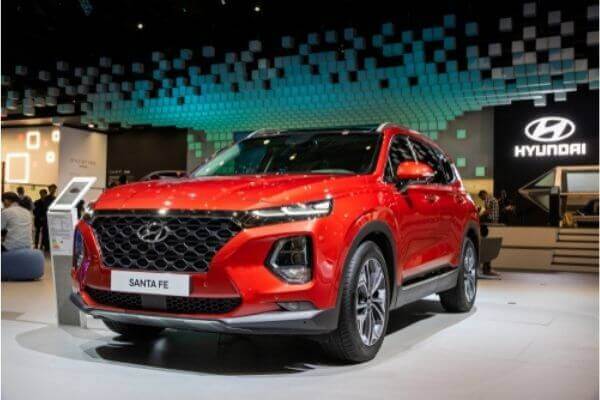 Another SUV marketed as a classic family car, the Hyundai Santa Fe is a bit of a sportier model that focuses less on luxury and more on functionality. Which is definitely not a bad thing, and doesn't mean it's lacking in the features department.
It's a sporty model and a great road tripping vehicle, although if you're after an SUV ideal for offroading, you'd probably be better off going with one of the other seven seater SUVs. But if you're after a daily driver that can move your whole clan, this is a great sporty option.
5. Toyota Kluger
The Toyota Kluger is a bit more tough and rugged, and if you're passionate about having a seven seater SUV with off road capabilities, the Toyota Kluger may be the one for you. It's pretty powerful and can handle rough roads well with its all wheel drive.
Its cabin is nice and spacious, with flexible seating and simple controls. Ultimately, the Kluger is a reliable model that will get you where you need to go, but it does lack a little bit of character, which some people may not mind.
You also get a 2000kg braked towing capacity and the option of a hybrid engine, which is generally more efficient.
6. Nissan Pathfinder
The Nissan Pathfinder hasn't changed much in terms of exterior styling since 2013, which people will either love or hate. Some people will enjoy the predictability and classic look, but others might want to mix it up a little.
The one thing you could say about the Nissan Pathfinder is it's dependable. It has a great amount of boot space and comfortable seating that will keep the whole family satisfied. But it's fairly basic in terms of technology, with no Android Auto or Apple Carplay, meaning connectivity is not the best it could be.
But it's a classic seven seater, and one still popular with a lot of families who need the extra space but don't necessarily want all of the added bells and whistles.
So, which is the best 7 seater SUV in Australia?
When picking out your new SUV, you need to take your lifestyle and needs into account. What exactly will you be using it for? Do you need to cart your family around, packing the boot full of gear and child seats in the back row? Or are you keen to fold the rear seats down and have more boot
space for all your adventuring gear for a weekend camping or offroading?
If you're after an all-rounder, though, you really can't go past the Skoda Kodiaq. A spacious seven seater SUV that's fun and easy to drive, it can fit everything you need while also delivering ideal comfort to you and your passengers. Whether you're after a daily driver or a road tripping companion, the Skoda Kodiaq will get you where you need to go.
Swing by the Perth City Skoda dealership to take the Skoda Kodiaq for a test drive, and see for yourself.